Chief Executive, Andrew Crisp opens the Habitat for Humanity National Conference 2022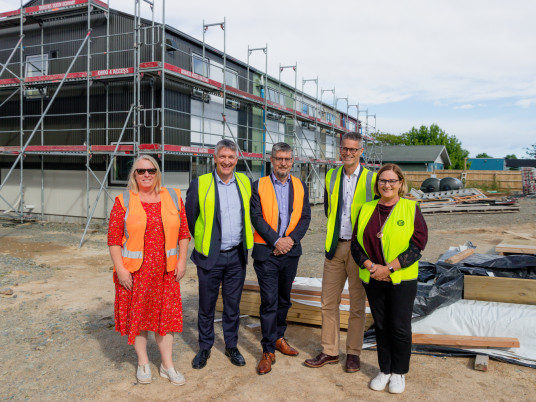 Published 29 Nov 22
On Wednesday, 23 November, Chief Executive Andrew Crisp attended and opened the Habitat for Humanity Annual National Conference in Nelson which saw over 100 delegates from the network in New Zealand, along with their Asia Pacific President, Luis Noda, Habitat for Humanity who is visiting New Zealand at the same time.
Andrew also visited the site where twelve homes are currently under construction in Stoke, Nelson. When completed, Habitat Nelson's Stoke Development will welcome 14 new families into the Progressive Home Ownership (PHO) programme and hand over the keys to a warm, safe home they will one day own.  
In his opening keynote, Andrew said "I would particularly like to acknowledge the contribution of Habitat for Humanity as a PHO provider. As of the end of 2021, Habitat for Humanity had been funded to support the delivery of 73 homes through approval of $22.13m in PHO loan facilities, 24 of which are right here in Nelson. Together we have made good progress over the past few years,"
"Habitat for Humanity is an important partner for Te Tūāpapa Kura Kāinga. We look forward to growing and strengthening this partnership in years to come." says Andrew.
Andrew also touched on how we've made some significant changes and achieved milestones since Te Tūāpapa Kura Kāinga was formed and shared some positive outcomes such as:
Setting the GPS-HUD and MAIHI Ka Ora – the National Māori Housing Strategy

Our place-based work and MAIHI approaches

Reducing barriers to build more homes via the

National Policy Statement on Urban Development, Medium Density Residential Standard, and the Housing Acceleration Fund

Get more houses built through more

Public and Transitional Housing build programme, Affordable Housing Fund and Whai Kāinga Whai Oranga

And help whānau into homes via

the PHO programme and First Home Products.
Business Development Manager, Brett Smith and GM, Housing and Services Delivery, Jono Fraser was also in attendance to share progress towards delivery under the Public Housing Plan and talk through the strategic partnering funding model.
Jono said, "We shared the success we have had in the last few years, partnering with Community Housing Providers delivering new supply of Public Housing across Aotearoa. We talked about the support HUD provides to the Community Housing Provider sector and the variety of funding models that contribute to much needed housing in the regions. We were thankful for the opportunity to have a really open discussion with a partner that is so passionate in what they do."
As one of our biggest community housing providers we partner with, Habitat for Humanity New Zealand has delivered solutions for those in housing need for almost 30 years in New Zealand.
Habitat is most known for their rent-to-buy programme and have worked with 540 Kiwi families to help them into home ownership! Currently, they are partnering with the Government via the Progressive Home Ownership programme and will be delivering 73 homes across New Zealand over the next couple of years.
Community Housing Providers play an integral role in delivering public and affordable housing for Aotearoa New Zealand. Our providers have strong community connections, knowledge, and expertise in delivering housing that provides warm, safe, dry homes.