Rotorua Housing Accord supports increasing housing supply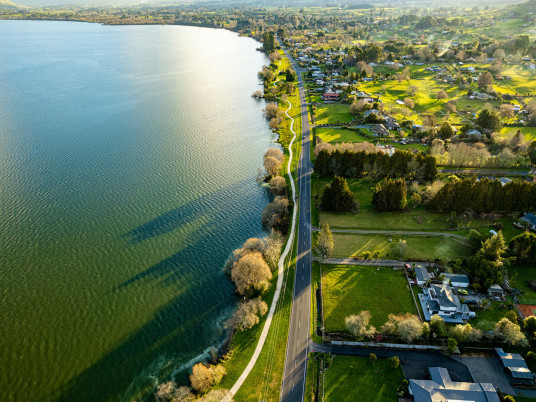 Published 31 Mar 23
In December 2022, central and local government and Te Arawa signed the Rotorua Housing Accord (the Accord), a commitment to working together to build a better housing and urban future for Rotorua. Housing Minister Megan Woods, Rotorua Mayor Tania Tapsell and iwi representatives came together for the Accord signing.

This week, the Accord steering group met in Rotorua to discuss progress they're making to ensure new infrastructure and housing supply will be responsive to demand, and provide for the long-term social, cultural, environmental and economic wellbeing of Rotorua and its people. 
Te Tūāpapa Kura Kāinga -Ministry of Housing and Urban Development (HUD) as the housing system leader takes a key role in the Accord. HUD Chief Executive Andrew Crisp is chair of the Accord Steering Group.
HUD has responsibility for Contracted Emergency Housing in Rotorua that provides safe, comfortable accommodation for whānau and individuals needing short term housing while more permanent solutions are found. Transitional housing is also provided by HUD nationally, including in Rotorua. Meanwhile HUD's Land for Housing Programme is active in Rotorua with developments at different stages providing a mix of affordable and market housing. These projects are contributing to ensuring increased housing supply for the whānau and people of Rotorua.
Increasing public housing supply
Kāinga Ora has around 300 public homes under construction or planned for delivery by the end of 2024, including:
25 recently completed homes and community house at Ranolf Street/ Malfroy Road, with 12 more under construction and 24 apartments planned
42 homes in construction at Quartz Avenue, with the first to be completed mid-2023
Planning in progress for new homes at a range of sites, including Pukuatua Street (14 homes), Gem Street (10 homes), Kawaha Point Road (14 homes).
Kāinga Ora has partnered with local high schools where students in trades academies are building new homes for public housing. It also continues to explore other opportunities to bring on more housing, including purchasing from developers, and partnering with others, including landowners.
Supporting developments by Māori, for Māori
Government has been working closely with several iwi groups to progress housing developments to increase supply of public and affordable housing by, for and with Māori:
The first stage of the Manawa Gardens development by Ngāti Whakaue Tribal Lands Trust is underway, which will deliver 20 affordable homes and infrastructure for a further 260 homes by the end of 2024.
Ōwhata Kōhanga Rākau Housing Initative, a new development by Ōwhata 2B and 7 Ahuwhenua Trusts, has received $12.5 million of funding from Whai Kāinga Whai Oraga for 100 per cent of infrastructure costs for 93 new affordable homes for Ōwhata tangata whenua and community.
Planning changes to enable more homes to be built in the right places
To prepare and plan well for the future, Rotorua Lakes Council is progressing with its intensification plan change (Plan Change 9) with hearings scheduled for August. This is supported by the Infrastructure Acceleration Fund investment Council received from Government last year, to enable and accelerate property development opportunities for housing and to improve stormwater outcomes for the district.
Council will also adopt its draft Future Development Strategy in May. This strategy will ensure there is a pathway for future development zones in Rotorua and Council can plan for and respond well to land capacity needs.
Additionally, to support the development of between 100 to 200 homes, Council is progressing the sale of surplus freehold land. A preferred developer has been identified for land on Clayton Road and this week Council agreed to progress with a request for proposals process for the development of land on Kawaha Point Road.
In its regulatory role, Council is ensuring motels that have stopped operating as emergency housing return to their permitted activity.
Find out more about the Rotorua Housing Accord and their objectives by visiting: https://www.hud.govt.nz/our-work/rotorua-housing-accord/(external link)