HomeGround opens officially in Tāmaki Makarau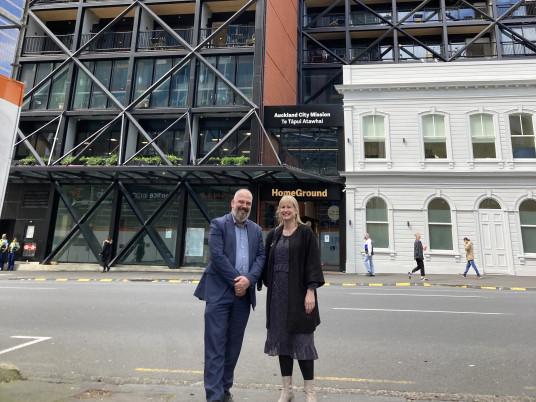 Published 19 Sept 22
Auckland City Mission's HomeGround is now officially open. It first opened its doors a few months ago providing permanent housing, health and social services for Aucklanders who are homeless and most vulnerable people. COVID-19 restrictions delayed the official opening until now.
The spaces encompass supportive permanent housing, with 24-hour wrap around care. Auckland City Mission (ACM) has a long history with the community and has well-established relationships with government agencies. It is based on the tikanga of the Anglican Church, which takes a Treaty-based approach to service design and provision. We have a good relationship with ACM and they hold several contracts for the provision of housing and support services on behalf of HUD.
The eleven-storey complex has 80 studio and one-bedroom apartments for people who need them. Facilities include a commercial kitchen, community dining room, public showers and toilets, medical centre and pharmacy, addiction withdrawal services, activity and conference spaces, commercial spaces for social enterprises, rooftop garden and a sacred space.
Anne Shaw, DCE, Solutions Design and Implementation attended the opening along with Will Barris, GM Partnership and Performance and Hannah Lintern, Senior Advisor on behalf of HUD.
Anne says, "It has been a culmination of more than a decade of planning and construction and we're proud to see the space brought to life, serving the vulnerable people of Tamaki Makarau -one where they can call home and feel safely supported.
"This is a much needed integrated space for whānau and individuals who not only need housing support but for people with complex needs due to poverty, illness, alcohol or drug dependencies. Huge thanks to those involved in Housing Supply and Contracts Management who have worked tirelessly over a number of years to support ACM in this ambitious undertaking."
Funding
We provided HomeGround with funding of $18 million to help with the development. It has agreed to provide funding for the 80 one-bedroom accommodation units for a period of 25 years. The Whole of Life costs for HUD is estimated at $74.4 million and includes the capital contribution. The Government provided an additional $22 million from COVID Response and Recovery Fund.
Supporting the development, the Government, Auckland Council, Auckland District Health Board, Foundation North, companies and members of the public have contributed to the $110 million cost to build HomeGround.
Design principles
The building has also won a number of awards since it's development.
Consultation with Ngāti Whātua Ōrākei allowed the co-development of a set of design principles specific to the project and supported by client creative groups. The gabled roof forms of HomeGround evoke the image of a large house – a 'home' for Auckland's homeless.
The crowning gable suggests a Māori wharenui / meeting house and its diagonal bracing the patterns found in Māori weaving, tukutuku (latticework) and Pacific tapa (barkcloth).
The vision of the Auckland City Mission is for sustained social change and ultimately ending chronic homelessness in central Auckland. A home for all people - safe, secure, warm and equitable physically and socially, HomeGround is designed as a landmark in the city that advances this kaupapa symbolising that having a home is a right for every member of society.
If you're ever up in Auckland, do drop in and visit HomeGround. You can even book events at the conference rooms and is a great space for community and business groups.  
For more information: