Te Tūāpapa Kura Kāinga Annual Report 2023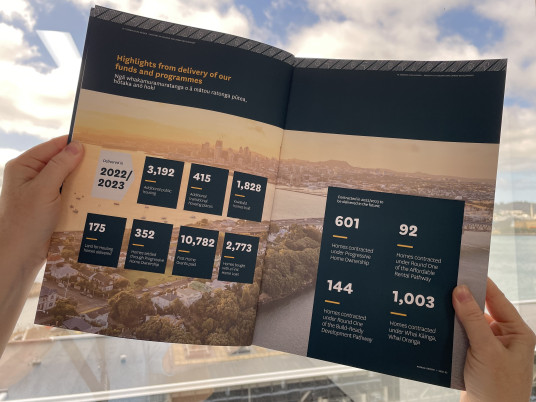 Published 20 Oct 23
Te Tūāpapa Kura Kāinga – Ministry of Housing and Urban Development's (HUD) 2022/23 Annual Report was released today. The Annual Report provides an overview of what we've been up to over the last financial year, highlighting our achievements and detailing our performance and financial information.
Some key highlights from this year include: 
We continued to deliver a range of funds and programmes in 2022/23 to increase housing supply and encourage investment in infrastructure.

We updated the Public Housing Plan 2021-2024 as the key response to increasing demand for public housing, focusing on building new homes. Under the plan, we supported the building of more public housing places with 3,192 additional public homes and 415 transitional housing places delivered in 2022/23.

We invested in Māori-driven housing and urban development solutions by

partnering with iwi and Māori. The Whai Kāinga Whai Oranga investment is supporting Māori to lead and deliver housing. We signed agreements with four iwi collectives to support Māori-led local solutions with 1,003 homes contracted.

We continued to progress the Land for Housing Programme which purchases vacant or under-utilised Crown and private land for housing developments. In the 2022/23 year, four land acquisitions were settled, totaling almost 36 hectares of land, to deliver an estimated 725 homes.

We continued to work to support communities and provided temporary housing for those who were displaced from their homes due to Cyclone Gabrielle and the North Island weather events in early 2023. The 2023 Budget provided $70 million to support the delivery of 400 relocatable cabins in Tairāwhiti, Wairoa, Napier-Hastings, and Taitokerau and Port Waikato-Hauraki.
In August 2022, we launched the Affordable Rental Pathway of our Affordable Housing Fund for households that struggle to meet market rentals but can't access public housing. The first round was limited to six locations with $50 million in funding available for grants. The second round was launched in February 2023 with eligibility extended to the entire country and $100 million available.

We supported build-to-rent as a type of medium-to-high density residential development, specifically built to provide long-term rental housing. We have a role in assessing and registering build-to-rent land for the exclusion from interest limitation rules. Since the legislation was enacted, 19 build-to-rent developments representing 733 homes have applied for registration.

We are leading the review of the Retirement Villages Act 2003 to ensure it remains fit for purpose and strikes a balance between the rights and responsibilities of residents and retirement village operators.

We developed our first Long-term Insights Briefing, which is a new requirement under the Public Service Act 2020. It provides the public with information about medium- and long-term trends, risks and the opportunities affecting Aotearoa New Zealand.
Read the full Annual Report for more about what we did this year. (PDF, 25 MB)