Tā mātau tukanga ā-wāhi
Our place-based approach
Every community has their own housing and urban development challenges and opportunities and a 'one size fits all' approach will not work to address them.


We're taking a deliberate, place-based approach to tackling Aotearoa New Zealand's housing and urban development challenges. This approach uses an understanding of places to inform how we work with communities.
Close engagement will not be needed to drive change in all places. In some places, local leadership and action will be sufficient to deliver better outcomes for people. In other places, we will work closely with communities to develop and implement local solutions to bring about the necessary change.
Through our place-based approach, we are continuously learning about places – how they are performing relative to one another and why we are seeing the outcomes we are seeing. This helps us to improve our national settings so that they deliver better outcomes for people in all places.
Active partnerships
Partnerships provide a way for central government and local partners to decide how working together can address the housing and urban challenges in their community. All our partnerships apply a kaupapa Māori lens to deliver solutions that are relevant to and co-delivered by Māori.
The map below shows our 10 active partnerships in communities across Aotearoa New Zealand, covering around 80% of the country's population.
While our partnerships are currently limited to these 10 places, the Government is delivering specific programmes and new public housing in other parts of the country as well. This is very different from the engagement in our partnership locations, which is broad and requires work with many stakeholders.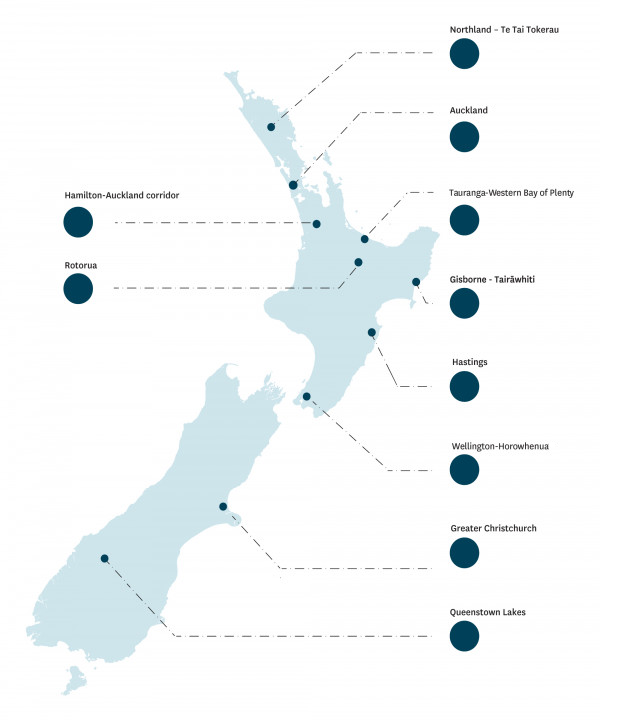 Urban growth partnerships
This support an integrated approach to land use and infrastructure planning for major urban areas and growth corridors. The urban growth partnerships are also starting to focus on housing issues.
Auckland
The Auckland Housing and Urban Growth Joint Programme is a collaboration between Auckland Council and the Government to deliver shared housing and urban growth priorities in New Zealand's largest city. The programme covers both spatial priorities (e.g. development opportunities arising from the City Rail Link, the City Centre to Mangere Light Rail Transit projects (Auckland Light Rail), Manukau centre and Drury) and policy priorities, such as how to deliver more affordable housing and quality intensification. A number of other government agencies are working alongside Te Tūāpapa Kura Kāianga - Ministry of Housing and Urban Development (HUD) and the Auckland Council in this partnership.
Cabinet paper - Terms of Reference for Auckland Housing and Urban Growth Joint Programme
Greater Christchurch
The Whakawhanake Kāinga Committee is an urban growth partnership for the Greater Christchurch area. The partnership is between the Greater Christchurch Partnership, Ngāi Tahu and the Crown. To address existing challenges and position Greater Christchurch effectively for long-term growth the Committee is working together to creating a well-functioning urban environment that supports the decarbonisation of transport and improves resilience, housing affordability and accessibility. An initial priority of the partnership is the preparation of a joint spatial plan and Mass Rapid Transport investigation. It is estimated that the joint spatial plan will be ready for public consultation in early 2023 and finalised by mid-2023.
Greater Christchurch(external link)
Cabinet paper - Urban Growth Partnership in Christchurch
Hamilton - Auckland Corridor
The Hamilton-Auckland Corridor (H2A) was the first partnership in New Zealand to bring two regions, mana whenua, central and local government together to integrate and coordinate land use, network and social infrastructure planning and delivery. The Corridor connects two of New Zealand's fastest-growing cities through an area of high natural and cultural importance and value. There is significant housing and employment growth potential at either end of the Corridor. This project is now being implemented by the Future Proof | Te Tau Tiitoki governance group.
The Hamilton-Auckland Corridor Plan was completed in December 2018 and updated in November 2020. The plan sets the vision, growth management objectives and programme for the corridor.
The Hamilton-Waikato Metropolitan Plan (Metro Spatial Plan) is being delivered through the Future Proof partnership and is one of the initiatives as part of the broader Hamilton to Auckland Corridor Plan. The Hamilton-Waikato metro area is an urban sub-region of the Waikato.
The Future Proof Strategy was updated in October 2021 to incorporate the Hamilton to Auckland (H2A) Corridor Plan and the Hamilton-Waikato Metropolitan Spatial Plan. This reflects the importance of the H2A corridor stretching through the north- Waikato and into Auckland, and the connections east towards Morrinsville and the Bay of Plenty.
Future Proof | Te Tau Tiitoki governance group(external link).
Cabinet paper - Hamilton-Auckland Corridor Partnership Plan and Programme
Queenstown Lakes
Whaiora Grow Well Partnership for the Queenstown Lakes area was established in July 2021. The partnership is between Queenstown Lakes District Council, Kāi Tahu, and the Government. The purpose of the partnership is to manage growing tourism and housing pressures and to develop a long-term strategy and investment plan for the future development of the area that improves community wellbeing, maintains a world-class visitor experience and protects the environment. The Queenstown Lakes Spatial Plan sets out the partnership's long-term approach to addressing these challenges. The partnership is now working together to deliver the joint programme of work identified in the Spatial Plan.
Queenstown Lakes Spatial Plan(external link)
Tauranga - Western Bay of Plenty
The Western Bay of Plenty requires a fundamentally different approach to managing growth to address interlinked urban development and housing issues and opportunities in the sub-region. The combination of multiple land use constraints and an over-reliance on private mobility means that the current growth model is increasingly unaffordable, unproductive and environmentally unsustainable. In August 2020, the Crown joined the region's existing and longstanding SmartGrowth partnership.
SmartGrowth partnership(external link)
Cabinet paper - Tauranga-Western Bay of Plenty Urban Growth Partnership
Wellington-Horowhenua Region
The Wellington Regional Leadership Committee was established in July 2021. This urban growth partnership is a collaborative approach to addressing the region's housing and urban development issues, with a focus on aligned investment. Ten local authorities in Wellington-Wairarapa-Horowhenua and a number of iwi groups with facilitation and support from central government agencies have developed Wellington Regional Growth Framework, including a high-level spatial plan and associated programme of initiatives. The focus of the joint spatial plan is on mode shift, access and housing affordability and exploring key development areas to understand how new government tools may be applied in these areas.
Wellington Regional Leadership Committee(external link)
Place-based partnerships
Our other partnerships are supporting communities with poor housing outcomes to achieve enduring improvements for their communities.
Te Tai Tokerau
A rising population has pushed up demand for housing in parts of the rohe, but new supply is weak due to the poor economics of developing property in the region, and existing houses are old and often in poor condition. Our partnership supports the delivery of community, iwi and Māori-led housing solutions, through the MAIHI Partnerships Programme, Whai Kāinga Whai Oranga, the Infrastructure Acceleration Fund and public and transitional housing, alongside Te Puni Kōkiri with papakāinga.
Rotorua
Rotorua has experienced strong population growth in recent years, but new housing supply has not kept up. There's a strong reliance on motels to meet emergency housing needs while more permanent housing solutions are delivered. The housing crisis in Rotorua has had a significant impact on Māori. Our partnership in Rotorua was first established in 2020, to align the housing responses of iwi (Te Arawa, including Ngāti Whakaue), central government and local governments, alongside community partners.
This partnership was renewed and strengthened in December 2022, with the signing of the Rotorua Housing Accord.
Learn more about the Rotorua Housing Accord
Hastings
Hastings was identified as the first location to trial a place-based approach after experiencing a rapid fall in housing availability and affordability from around late 2016. The Hastings partnership initially aimed to deliver around 200 new public and affordable houses as a short-term response. In 2021, this collaboration between iwi (Ngāti Kahungunu), community organisations and local and central government, led to the development of a medium- to long-term housing strategy for Hastings--Kāinga Paneke, Kāinga Pānuku. This strategy is council-led with support from HUD, iwi and others.
Learn more about Kāinga Paneke, Kāinga Pānuku on the Hastings District Council website(external link)
Tairāwhiti
A rising population, reducing affordability, a decline in the number of available rental properties and an historically low number of building consents has led to a housing shortage in Tairāwhiti. Many people who had previously managed to rent are struggling as housing costs rise. Our partnership in Tairāwhiti is focused on helping whānau in urgent need of housing, working on the rollout of Whai Kāinga Whai Oranga-funded projects and working with Kāinga Ora on the delivery of more public housing.
Learn more about Whai Kāinga Whai Oranga
Priorities
Here are the priorities that we apply across our partnerships.
Support Māori-led solutions
In our partnerships, we use a Te Maihi o te Whare Māori – Māori and Iwi Housing Innovation (MAIHI) framework to support Māori-led local solutions to ensure that Māori have safe, healthy and affordable homes with secure tenure.
Whai Kāinga Whai Oranga provides funding to support Māori housing supply objectives.
Learn more about Whai Kāinga Whai Oranga
Support people at risk of or experiencing homelessness
Our partnership work supports people experiencing homelessness to access and sustain housing through the delivery of the Aotearoa New Zealand Homelessness Action Plan initiatives.
Learn more about the Homelessness Action Plan
We also work with Kāinga Ora - Homes and Communities, Community Housing Providers and other local partners to deliver the Public Housing Plan.
Learn more about the Public Housing Plan
Better planning
Our partnerships support better planning and land-use regulation, including by implementing the National Policy Statement – Urban Development (NPS-UD).
Liveable and resilient cities
We aim to support liveable and resilient cities that give people more and better options for housing and encourage lower emissions from urban form and construction, in line with the Urban Growth Agenda objectives.
Learn more about the Urban Growth Agenda
Invest in infrastructure
Infrastructure investment is critical to build homes and communities. We work to align investment plans across different government agencies and councils, for greatest impact.
Learn more about the Infrastructure Acceleration Fund
Affordable homes
Our partnerships work to ensure that more affordable homes are built by government and the private sector and that there are pathways to affordable housing options.
Progressive Home Ownership supports individuals and whānau into home ownership, while build-to-rent provides long-term affordable rental accommodation to tenants.
Learn more about Progressive Home Ownership
Learn more about Build-to-rent